St James Church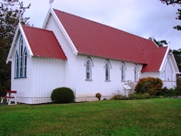 During the many years of the church's existence, St James has led a peaceful life.
From the establishment of the mission station at Kerikeri in 1819, church services were held regularly in rooms made available, or in the open air. The worship room was called 'the whare karakia'. In 1823 the first church/school was built behind the Stone Store.
In 1829 a new chapel was built, on the site of the present church. It was of lath and plaster, 38ft x 18ft, and an attractive-looking building of white walls and green frames. A so-called town clock was installed on it, to overlook the settlement. This building, which was serviceable and well-lit, was maintained for nearly 50 years, and sometimes held congregations of up to 300—standing, presumably.
By 1840 very few people remained living in the Kerikeri area; most of the Maori had moved to other places, so the Kerikeri mission station was closed. Over the next few decades a population began to build up again, and a new church was built to replace the old chapel. This, named St James, was opened in December 1878, at a cost of £235. Some timbers from the chapel were probably incorporated. An extension of 17ft was added in 1963. There have been no subsequent alterations to the structure.
Over the years the church has gathered a number of memorials; the east and west windows are striking examples, and there are the Butler and Kemp tablets, and many others. During the many years of the church's existence, St James has led a peaceful life. It has witnessed no battles, and apart from being moved by a tornado in 1968, has existed to give a quiet, neat and picturesque witness of the faith it was built to accommodate.